Details

Category: The Church: The Higher Calling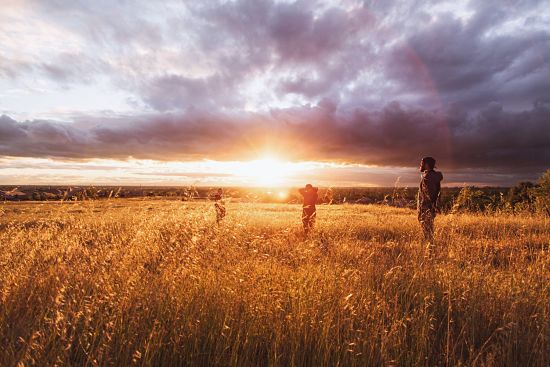 Theme Text– 'What a wretched man I am! Who will rescue me from this body that is subject to death?' (Romans 7:24)
1) What happened at the Garden of Eden to Father Adam (and us)?
Adam was created a free-willed being in perfection (Psalm 115:3, Genesis 1:27). He was justified to live in the sight of his Creator (Gen 1:28). He would have continued to live on forever if he had been obedient. But he disobeyed God (sinned) and lost that justified state (Gen 2:16-17, 3:1-6).

As Adam's descendants, all of us inherit sin in our genes from him, and hence have fallen along with him to an unjustified state (Romans 5:12,18, Psa 51:5).
2) What does unjustified state mean?
Death! Not justified to live. Indeed, the wages of sin is death (Romans 6:23, 1Cor 15:22). If we want to be restored back to life, we need to be justified back from our present unjustified fallen state.
Works of the Law = Works Against Sin
3) In Old Testament times, God gave Israel a set of rules called the Law Covenant. What was the deal?
Paul explains that deal - "The Law is not based on faith; on the contrary, it says, "The person who does these things will live by them" - Galatians 3:12.
Yes, if a person had followed the Law Covenant fully, he or she would have lived on forever.
Obeying the Law Covenant would have uplifted man from the fallen state to the justified state.
4) What exactly is the Law covenant?
Many people think Law covenant is about Jewish customs and rituals. But let's see what Paul says - "What shall we say, then? I would not have known what sin was had it not been for the Law. For I would not have known what coveting really was if the Law had not said, "You shall not covet" - Romans 7:7.
Yes, Paul states it was the Law Covenant that defined and explained to mankind what sin is.
5) So what is sin?
Whatever the Law deems wrong is sin. Sin is essentially breaking a commandment of the Law.
And contrary to popular notion, the Law does not have just 10 commandments.
The Law actually has 613 Commandments in total. So sin is not just things like murder, adultery etc. Sin, according to the Bible, is breaking any one of the 613 commandments of the Law.
6) So what are the works of the Law essentially?
Works of the Law are essentially works against sin. If a person had followed all of the 613 commandments, he/she would have become sinless and thus become justified.
Thus, mankind was given a chance to justify themselves by doing works against sin.
No Righteousness of our Own
7) Is it possible to do works against sin (i.e. follow the Law Covenant) and be justified?
Paul answers - 'We have already made the charge that Jews and Gentiles alike are all under the power of sin.
No one will be declared righteous in God's sight by the works of the law; rather, through the law we become conscious of our sin' - Romans 3:9, 20.
...That's shocking. Yes, Paul definitively declares it's humanly impossible to work against sin and become righteous.
But… why is that?
He explains why – 'We know that the law is spiritual; but I am unspiritual, sold as a slave to sin. I do not understand what I do. For what I want to do I do not do, but what I hate I do. And if I do what I do not want to do, I agree that the law is good. As it is, it is no longer I myself who do it, but it is sin living in me. For I know that good itself does not dwell in me, that is, in my sinful nature.
For I have the desire to do what is good, but I cannot carry it out. For I do not do the good I want to do, but the evil I do not want to do—this I keep on doing. Now if I do what I do not want to do, it is no longer I who do it, but it is sin living in me that does it. So I find this law at work: Although I want to do good, evil is right there with me. For in my inner being I delight in God's law; but I see another law at work in me, waging war against the law of my mind and making me a prisoner of the law of sin at work within me. What a wretched man I am! Who will rescue me from this body that is subject to death?' - Romans 7:14-24.
Truly, this is the condition of fallen Man. We are in fallen Adamic flesh. The LORD said in his heart - "Every inclination of the human heart is evil from childhood". Genesis 8:21.
Hence we cannot attain righteousness on our own.
We want to do right, but our flesh is fallen, and keeps us from obeying the Law. Hence none of us can keep the entire Law i.e. all 613 commandments. None of us can become sinless.
8) If we were to fail in just one of the 613 commandments (kept 612!) - Would we get justified?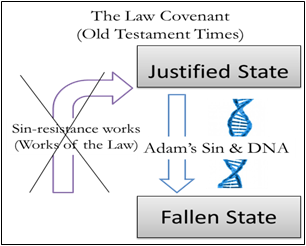 James explains - 'For whoever keeps the whole law and yet stumbles at just one point is guilty of breaking all of it.
For he who said, "You shall not commit adultery," also said, "You shall not murder." If you do not commit adultery but do commit murder, you have become a lawbreaker' - James 2:10-11.
That's right. If we were to keep 612 of the 613 commandments, but broke just one commandment, we would be deemed guilty of breaking the whole Law.
Let us read some examples of the commandments in the Law.
    "Keep my decrees. Do not mate different kinds of animals. Do not plant your field with two kinds of seed.
     Do not wear clothing woven of two kinds of material." - Leviticus 19:19.
Yes, wearing polyester cotton is sinful!
And if one breaks just that one commandment, it would mean he/she has broken the whole Law, and that person would continue to remain in the unjustified state.
9) So according to Paul and James, what did the period of the Law Covenant teach us?
It showed us that it's impossible for us to keep the Law i.e. we cannot justify ourselves by working against sin, because we are in fallen flesh.
The Law was given to show that all attempts of men to justify themselves would be futile.
'We know that whatever the law says, it says so that every mouth may be silenced and the whole world held accountable to God' - Romans 3:19.
Paul sums up our state – "What a wretched man I am! Who will rescue me from this body that is subject to death?" - Romans 7:24. Yes, the Law revealed that we need a Savior to come rescue us.
Imagine if God had not given the Law and directly sent a Savior… some of us could have said, "I could have done it myself!"But since the Law proved that no man can justify himself, nobody can make that claim now. The need for a Messiah (a Deliverer!) has been amply shown by the Law.
10) What do we need to do?
The first step is repentance (Greek metanoia: a change of mind): Admitting that we are born sinful, we need to change our minds from believing in self-justification efforts and instead turn to a Savior.
Who is that Savior we need to turn toward? Paul answers – 'Thanks be to God, who delivers me through Jesus Christ our Lord!' - Romans 7:25. Yes, we need to turn to God's Christ Jesus for deliverance.