Details

Category: A Hell of a Question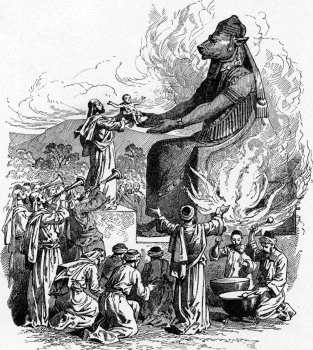 Theme Text - 'God is love...perfect love casteth out fear because fear hath torment' (1John 4:16, 18)
1) We studied the actual meaning of the various words translated as hell in the Bible - Sheol/Hades, Gehenna and Tartaroo. We also read the history of how hell fire and eternal torment crept into Christianity. And we found what the Scriptures say about Jesus' Ransom for Adam, and his upcoming Kingdom restoration of the Earth and mankind. But even if eternal hell torment isn't biblical, won't it still be alright to use hell fire as a threat to frighten people into submitting to God?
Not really. A disappointed God says, 'Their fear toward me is taught by the precepts of men' (Isa 29:13). He rather desires a willingly obedient heart driven by love for Him and goodness - not by fear.
And the idea of torment is abhorrent to God. Pagans built sacrificial altars to their false god Baal and burned their children alive in the fire. God Himself angrily declares that such a concept never did enter His mind' (Jer 19:5 NASB). God forbade torture in His Law.
Apostle John confirms, 'God is love...perfect love casteth out fear because fear hath torment' (1John 4:16, 18)
2) Wishing people to eternal torment – does that harmonize with our loving God?
Would any of us have the heart to take the hand of our vilest foe and place it on a hot flame? No. It's inhumane.
Won't our God of love have the same compassion upon his disobedient creations? Or would he eternally torture men for their sins of 60-80 years?
Jeremiah says,
    'It is of the LORD's mercies that we are not consumed, because his compassions fail not' (Lam 3:22-23).
Would a God who commands us to love our enemies, wish to burn them forever?
God's mercies are far above Man's mind. His glorious rescue plan has been harmoniously narrated from Genesis to Revelation!
The sins of Man are to be blotted out, when the times of refreshing shall come from the presence of the Lord [Jesus] whom the heaven must receive until the Times of Restitution of All Things [the Kingdom], which God hath spoken by the mouth of All his Holy Prophets since the world began (Acts 3:19-21).
Appendix - A Summary/Snapshot of the Real 'Hells'
Question For Further Study
Like hell torment, are there other unbiblical Dark Age doctrines that have settled into Christianity? - Read further.