Details

Category: Do we know What we worship?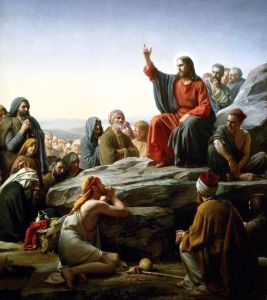 1) We studied about the LORD God Almighty. We saw Apostle Paul saying we have one God, the Father. What did the Apostle say about Jesus?
'There are many gods and many lords, yet for us there is but one God, the Father, from whom are all things and we exist for Him; and one Lord, Jesus Christ' (1Corinthians 8:5-6 NASB).
Having confirmed the Father as our God, the Apostle says we have one Lord as well – Jesus Christ. As we saw before, this Lord is not the same word as the LORD (all capitals) Yahweh. This Lord (Greek:Kurios) means Master. Paul is saying we have one God, the Father and one Master, Jesus Christ.
2) Why is Jesus our Master?
To answer that, let's start with Old Testament prophecies. They said God would send a Messiah/Christ:
Moses told the Israelites, 'The LORD thy God will raise up unto thee a Prophet from the midst of thee, of thy brethren, like unto me; unto him ye shall hearken' (Deuteronomy 18:15 KJV).
Elsewhere God said 'Behold my servant, whom I uphold; mine elect, in whom my soul delighteth; I have put my spirit upon him' (Isaiah 42:1 KJV).
Jesus was that promised Messiah -- one anointed by God (Matthew 1:1).
3) Was Jesus just an ordinary servant of God?
Absolutely not! He was no ordinary messenger. He was the mighty Word of God - the Logos (John 1:1).
He was in fact the very Son of God, so termed 47 times in the New Testament.
4) What was Jesus' pre-human existence? Why is he called the Only Begotten Son of God (John 3:16 NASB)?
Jesus was the firstborn of all of God's creation:           
Col 1:15 (NASB) - the firstborn of all creation
Rev 3:14 (NASB) - The Amen, the faithful and true Witness, the Beginning of the creation of God
Prov 8:22 - The LORD (Yahweh) brought me forth as the first of his works (See also 1Cor. 1:24)
He was also the last (direct) creation of God. That's why he's called the First and the Last, the Alpha and the Omega (Rev 2:8, 22:13).
Yes, that's why he's the Only Begotten Son.
5) What role did Jesus play in creation?
God created everything else through his Son using him as an agent.
Col 1:16 - For in him [Jesus Christ] all things were created: things in heaven and on earth, visible and invisible, whether thrones or powers or rulers or authorities; all things have been created through him and for him.
Prov 8:27-30 (NASB) - When He [God] established the heavens, I was there, When He inscribed a circle on the face of the deep, When He made firm the skies above…When He marked out the foundations of the earth; Then I was beside Him, as a master workman; (Refer 1Corinthians 1:24 - Christ, the wisdom of God).
John 1:3 - Through him [Jesus] all things were made; without him nothing was made that has been made.
God loves his dear Son - For the Father loves the Son and shows him all he does (John 5:20).
6) What role did Jesus play in the redemption of Adam's race?
When Adam sinned, God set a rescue plan in motion to redeem Adam (Genesis 3:15) by promising the Christ. God sent his only Son to die in place of Adam and pay the ransom to save Adam's race (John 3:16). He transformed the mighty Logos into Mary's womb to be born as the man Jesus (John 1:14).
Yes, Jesus holds even more special status because he is the Christ (the Anointed One) sent by God.
7) What else did Jesus accomplish on earth apart from redeeming Adam's race?
Jesus learnt obedience to God from the things he suffered and was designated by God as high priest (Hebrews 5:8-10).
Jesus prayed and petitioned to God with cries and tears and was heard by God because of his reverent submission (Heb 5:7).
He was faithful to God who appointed him and so was found worthy of greater honor than Moses (Heb 3:2-4).
8) What did God do when Jesus showed such absolute faithful obedience?
When Jesus proved his obedience and faithfulness, God exalted him as Lord (Master) over all creation (Philippians 2:9-11). 'God, even thy God, hath anointed thee with the oil of gladness above thy fellows' (Hebrews 1:9 KJV).
God has appointed Jesus as Lord and King over mankind. That's why Jesus is our Master!
Yes, God highly exalted him, and bestowed on him the name which is above every name, so that at the name of Jesus EVERY KNEE WILL BOW, of those who are in heaven and on earth and under the earth, and that every tongue will confess that Jesus Christ is Lord, to the glory of God the Father (Phil 2:9-11 NASB).