Details

Category: The Church: The Higher Calling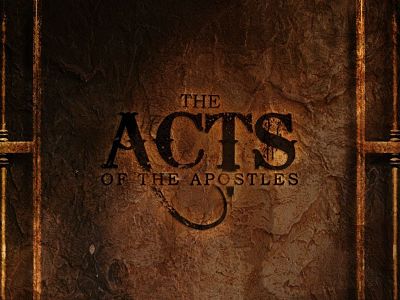 Theme Text– 'For it is with your heart that you believe and are justified, and it is with your mouth that you profess your faith and are saved.' Romans 10:10.
Acts of Faith
1) If the church's calling is not to struggle against sin and justification is rather only by faith in Christ, does it mean we do nothing to prove our faith?
James answers - 'Faith by itself, if it is not accompanied by action, is dead. You foolish person, do you want evidence that faith without deeds is useless?' - James 2:17-20.
So James says we need to do deeds to prove our faith. But… didn't Paul say we are not justified by works (Gal 2:16)? If both of them were talking about the same works/deeds, then the Bible would indeed be contradicting itself! In fact, Christian scholars have debated this for many centuries.
2) How do we know James and Paul aren't contradicting each other?
What works was Paul talking about that he said can't justify us? –'Works of the Law' i.e. sin-resistance works.
Does James use the word 'Law'? No, he uses 'Faith'. So what deeds is he talking about? – 'Deeds of Faith'.
Paul too said we are justified by faith. So James is not contradicting Paul but rather supplementing him.
3) But what are Deeds of Faith really?
Paul answers - If you declare with your mouth, "Jesus is Lord," and believe in your heart that God raised him from the dead, you will be saved. For it is with your heart that you believe and are justified, and it is with your mouth that you profess your faith and are saved. Romans 10:9-10.
Peter confirms - If you are insulted because of the name of Christ, you are blessed, for the Spirit of God rests on you…, if you suffer as a Christian, praise God that you bear that name… You may have had to suffer grief in all kinds of trials. These have come so that the proven genuineness of your faith may result in praise, glory and honor when Jesus Christ is revealed. 1Peter 4:13-16, 1:6-7.
Yes, proclaiming our faith in Jesus Christ and his Kingdom to this hostile world, and enduring persecution for the sake of the true gospel is indeed how we prove our faith!
Following Jesus: Spiritual Race |Good Fight of the Faith
4) Aren't we supposed to follow Jesus Christ to prove our faith?
Yes, of course. But how does one follow him really? Jesus himself answers:
Jesus said to another man, "Follow me." He replied, "Lord, first let me go and bury my father." Jesus said to him, "Let the dead bury their own dead, but you go and proclaim the kingdom of God" Luke 9:59-60.
So to follow Jesus, we understand that need to go proclaim the Kingdom.
Elsewhere, Paul asks us to offer ourselves as a Living Sacrifice - "I urge you, brothers and sisters, to offer your bodies as a living sacrifice, holy and pleasing to God—this is your true and proper worship" - Romans 12:1. But… how can we do that? Jesus explains how -
"Whoever wants to be my disciple must deny themselves, take up their cross and follow me. Whoever wants to save their life will lose it, but whoever loses their life for me and for the gospel will save it." Mark 8:34-35.
Jesus asks us to lose our lives i.e. dedicate it to proclaim his gospel of the kingdom, if we want to follow him.
With faith in the heavenly promise of eternal life, we are told to cast aside even our lawful worldly desires/relations i.e. our earthly life to do gospel/church work and offer this life as a sacrifice to God.
This is the calling of the church! These are the deeds needed to prove our faith, not a fight against sin.
Dedicating our life for the gospel includes -
          1) Working to spread the gospel and
          2) Serving to strengthen the faith of fellow members in the body of Christ and helping them attain eternal life.
5) Paul tells us, 'Let us run with perseverance the race marked out for us' - Hebrews 12:1. What's this race?
Paul defines that race – 'I consider my life worth nothing to me; my only aim is to finish the race and complete the task the Lord Jesus has given me —the task of testifying to the good news of God's grace.' Acts 20:24.
Elsewhere he explains – 'I went in response to a revelation and I presented to [the leaders] the gospel that I preach. I wanted to be sure I was not running and had not been running my race in vain.' Galatians 2:2.
Peter confirms – 'He [Jesus] commanded us to preach to the people and to testify that he is the one whom God appointed as judge of the living and the dead.' Acts 10:42.
Yes, the race marked out for us is 'the task of testifying to the good news of God's grace'. And that's our good fight!
Paul tells us, 'Endure hardship, do the work of an evangelist, discharge the duties of your ministry. I am already being poured out like a drink offering. I've fought the good fight, I've finished the race, I've kept the faith. There is in store for me the crown of righteousness, which the Lord will award to me on that day' - 2Tim 4:5-8.
Yes, living for the gospel is our Spiritual Race, and suffering for it is our Good Fight of the Faith.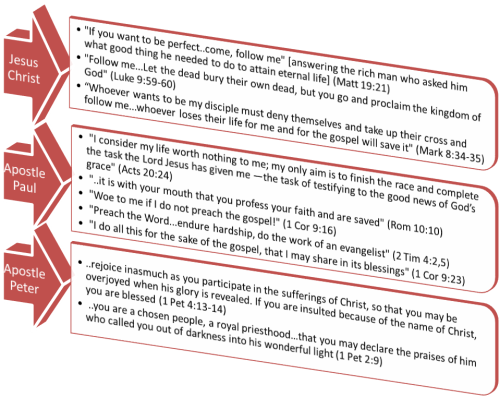 6) James provides examples to explain deeds of faith. How do those compare to ours?
First example: Abraham – 'Was not Abraham considered righteous for what he did when he offered his son on the altar? His faith and actions were working together, and his faith was made complete by what he did. Scripture was fulfilled that says, 'Abraham believed God and it was credited to him as righteousness'' James 2:21-24. Like Paul, James says Abraham's faith was credited to him as righteousness when proved by his deed.
Next example: Rahab, the prostitute – 'In the same way, was not even Rahab the prostitute considered righteous for what she did when she gave lodging to the spies and sent them off in a different direction' - Jam 2:25.
 

Abraham

Rahab, The Prostitute

How does it compare to us?

Deed of Faith

Offered his only heir as a sacrifice.

Helped Israeli spies, even though she was living in Jericho, essentially committing treason!

Dedicate our present lives as living sacrifices to proclaim Christ's gospel of the kingdom to a hostile world.

Was it a sin-resistance deed?

No, it was actually attempted murder!

Imagine if James had said she got justified because she left the sin of prostitution! That would've contradicted Paul!

But no, he doesn't say so.

The New Testament clearly shows us that our deeds of faith aren't supposed to be the sin-resistance works of the Law.

What was the faith?

Abraham knew the one true God, and believed in His promise that He will make him into a great nation.

Rahab believed Israel's God was the one true God, and that His plan was to hand over her country to the Israelites.

We know the one true God and His Son, and believe that God would bless us with eternal life and kingship in the kingdom.

How was it proved?

God demanded the only heir in Abraham's hands as a sacrifice, essentially asking him to believe in an unseen offspring.

Living inside an enemy town, Rahab had to risk her life, commit treason and work for God to help the Israelites.

God demands the only life in our hands - our present life - as a living sacrifice, having faith in a future, unseen eternal life.

Living in a world ruled by our enemy Satan, we need to do gospel work for God proclaiming his Kingdom, against the god of this age, trusting in the unseen God.

7) According to James, what would happen to our faith if we do not confirm it by deeds?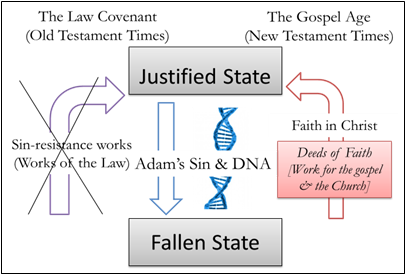 Faith, if not accompanied by action, is dead. Jam 2:17. With a dead faith, we lose our justification and go back to the fallen state i.e. death. James cries out, 'Can such faith save them? You believe that there is one God. Good! Even the demons believe that - and shudder.' Jam 2:14, 19. Yes, the demons also know who is God. But what deeds do they do with that knowledge? And what deeds should we be doing?
Demons work against God's plan and obstruct the gospel. We should do gospel work to advance His plan.
Demons try to divide churches and mislead members to make them weary. We should work to unite churches, to motivate members and help them grow in the truth.
Yes, our deeds of faith include a life-long struggle between us and the forces of this wicked world.
8) Dedicating our life to spread the gospel is our spiritual race. When do we start this life of sacrifice?
It starts when we consecrate our life at our baptism – the 3rd and final step.
Repent - Admit our sinful nature, change our minds from self-justifying works and turn to God for a Savior.
Believe - Place our faith in Christ as our Savior to be freely justified by his sacrifice, and realize the need to dedicate our lives as a living sacrifice to prove that faith by deeds.
Get Baptized - The final step is baptism, essentially that dedication/consecration.