Details

Category: The Gospel Race: Things We Achieve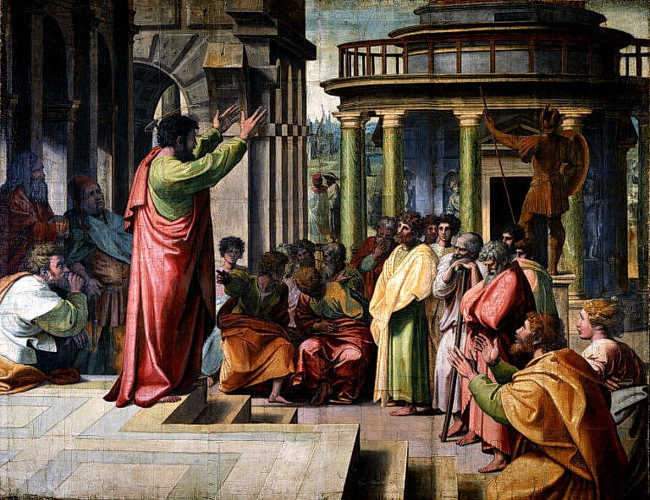 Theme Texts – 'It is with your mouth that you profess your faith and are saved.' Romans 10:10. 'You are a royal priesthood.' 1Peter 2:9.
When we read the Scriptures, we understand God has a multi-fold purpose for asking us to offer ourselves as living sacrifices to run the gospel race. Let us look at the first two things we achieve when we run the gospel race here.
Prove The Faith
One uber-crucial thing we achieve by running the gospel race - We prove our faith!
Paul states plainly – 'If you declare with your mouth, "Jesus is Lord," and believe in your heart that God raised him from the dead, you will be saved. For it is with your heart that you believe and are justified, and it is with your mouth that you profess your faith and are saved' Romans 10:9-10.
He cries out - Woe to me if I do not preach the gospel! 1Corinthians 9:16.
Yes, it's a test of faith. Preaching the gospel to others is a basic requirement for us to be saved as Christ's followers!
Do the Priestly Duty / Get Sanctified / Be Holy!
There is really no clergy/laity separation in the biblical Church. Every follower of Christ is a priest, part of a royal priesthood actually. And guess what the duty of this priesthood is?
Peter answers – But you are a chosen people, a royal priesthood, a holy nation, God's special possession, that you may declare the praises of him who called you out of darkness into his wonderful light 1Pet2:9.
Paul confirms – God gave me the priestly duty of proclaiming the gospel Romans 15:16.
Many think holiness/sanctification means becoming sinless.
Is that correct? What's the right meaning?
Jesus says, "For them I sanctify myself, that they too may be truly sanctified." John 17:19. Jesus wants to sanctify himself! Was he a sinful man trying to get rid of sin? No, we know he was a sinless perfect man. So sanctification/holiness cannot mean becoming sinless!
The Greek root word for 'holy' is hágios. It just means 'set apart'. But, set apart for what?
Jesus answers - "Sanctify them by the truth; your word is truth." John 17:17. The NCV renders it better, "Make them ready for your service through your truth; your teaching is truth."
Yes, we are set apart to serve God and His Truth. It's the gospel service that makes us holy. Jesus continues, "As you sent me into the world, I have sent them into the world." John 17:18.
Why was Jesus sent? - He said, "I must proclaim the good news of the kingdom of God to the other towns also, because that is why I was sent." Luke 4:43. Yes, Jesus sanctified himself by serving the gospel. We too are sent into the world just like him!
God is holy (set apart) from everyone (Rev 15:4). If we wish to be holy (set apart) like Him, we need to do his will. Jesus did it by serving the gospel, and not only sanctified himself but also paved the way for us to be sanctified just like he promised (John 17:19).
Yes, by his sacrifice on the cross, he justified us sinners, so we can be reckoned pure by faith in him, to do holy priestly service to God.
In Old Testament times, handling the holy things in the Tabernacle made the priests more holy.
'They will be most holy, and whatever touches them will be holy.' Exodus 30:29. When we do priestly gospel work, we handle the holy truth.
So the more gospel work we do, the more sanctified we become!
Paul explains elsewhere how we become slaves to Christ's gospel and thereby achieve holiness -
"Where sin increased, grace increased all the more. What shall we say, then? Shall we go on sinning so that grace may increase? By no means! We are those who have died to sin; how can we live in it any longer? Or don't you know that all of us who were baptized into Christ Jesus were baptized into his death? We were buried with him through baptism into death in order that, just as Christ was raised from the dead, we too may live a new life." Romans 5:20-6:4.
His message is this - Christ freed us through grace not to spend time sinning, but to live a new life after baptism. Yes, the baptized have a new purpose, a new life – a life for the gospel. He continues– "Count yourselves dead to sin but alive to God in Christ Jesus. Do not offer any part of yourself to sin as an instrument of wickedness, but rather offer yourselves to God, every part of yourself to him as an instrument of righteousness. Thanks be to God you have come to obey the pattern of teaching that has now claimed your allegiance. Offer yourselves as slaves to righteousness leading to holiness. Now that you have become slaves of God, the benefit you reap leads to holiness, and the result is eternal life." Rom 6:8-22. So what does "slave to righteousness' mean?
We know we have no righteousness on our own, and are rather credited with righteousness that comes from God by faith in Christ (Rom 3:21-22, 1:17). And what brings us that righteousness? - 'How much more glorious is the ministry that brings righteousness' 2Cor 3:9. So yes, we should become slaves to Christ's gospel that gives us righteousness, and that leads to holiness. This matches with Jesus' words in Mark 8:35.
        "Whoever loses their life for me and for the gospel will save it" = "Become slaves of God, the benefit you reap leads to holiness, and the result is eternal life"
Let us dig deeper into more of the things we achieve when we run the gospel race. Read Next: A share in sufferings for a share in glory.