Details

Category: The Gospel Race: Things We Achieve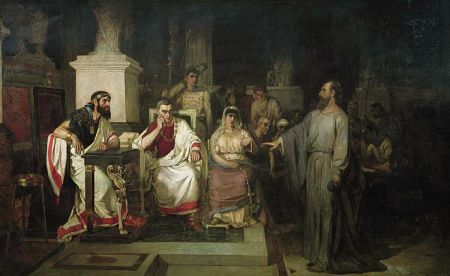 Theme Text – 'Preach the word; in season and out of season.' 2Tim 4:2.
We saw that when we run the gospel race, we prove our faith in God, and fulfill our priestly duty to attain holiness. We also realized how our share in Christ's sufferings for the gospel of the Kingdom gets us a share in his Kingdom glory and authority. All those things constitute the multi-fold purpose for which God asks us to run the gospel race. Let us look at another important objective of the gospel race here.
Those who suffer according to God's will should commit themselves and continue to do good.1Pet 4:19. Peter says we need to do good.
Since the Bible deems all the so-called good things of this world as useless and meaningless (Eccl 1:14, 2:1), the one truly good thing we could do someone in present times is to give them the gospel that would bring him/her eternal good.
Some might ask - Why do we need to tell the world now? Won't they just hear it in the Kingdom? Many just reject it in present times, don't they?
Peter adds - "Live such good lives among the pagans that, though they accuse you of doing wrong, they may see your good deeds and glorify God on the day he visits us." 1Peter 2:12.
This is quite interesting. He says the world would see our good lives/deeds and… accuse us of doing wrong (!). Wait a second! If we help someone with food/money, will he say we did wrong? If we lead good decent lives in this world, will that be called wrongdoing? So what kind of life/deeds are good in the sight of God but wrong in the eyes of the world? - Gospel work!
The world has always persecuted those who preach the good news. Living a life for the gospel is what Peter means by good lives/deeds.
He also says the world will eventually glorify such good deeds. But when? - On the Day God visits us! What Day is that? - The Kingdom of God! Yes, the world will realize the truth then, and praise God for those who did good to them by announcing the gospel.
Jesus answers: "He who listens to you listens to me; he who rejects you rejects me. If anyone hears my sayings and does not keep them, I do not judge him; for I did not come to judge the world, but to save the world. He who rejects me and does not receive my sayings, has one who judges him; the word I spoke is what will judge him at the last Day" Luke 10:16, John 12:47-48 NASB.
Yes, many reject the Word now, but they shall remember when they resurrect in the Kingdom. They can't make any excuse then. They can't say, "Why didn't anyone tell me before?"
The very Word we tell them today would help correct/judge them during the 1000-year Kingdom (the last Day).
It's a duty!
Paul says our present-day duty is just to give the world the truth. They would understand it in due time, some of them now and most in the Kingdom. Regardless of the returns, we should keep discharging our duty -
In the presence of God and Christ, I give you this charge: Preach the word; in season and out of season. The time will come when people will not put up with sound doctrine. To suit their own desires, they will gather teachers to say what their ears want to hear. They will turn away from the truth to myths. But you, keep your head in all situations, endure hardship, do the work of an evangelist, discharge all the duties of your ministry. 2Tim 4:1-5.

This duty helps further God's Grand Plan for humanity - 'His [God's] goal was to carry out his plan, when the right time came, that all things in heaven and on earth would be joined together in Christ as the head. In Christ we were chosen to be God's people, because from the very beginning God had decided this in keeping with his plan. We are the first people who hoped in Christ, and we were chosen so that we would bring praise to God's glory' Ephesians 1:10-12 NCV.
Yes, as we run the gospel race, we do good to mankind and perform our duty to the world, which takes God's Grand Plan forward.
Let us dig deeper into more of the things we achieve when we run the gospel race. Read Next: The Greatest Commandments of Love.