Details

Category: The Church: The Higher Calling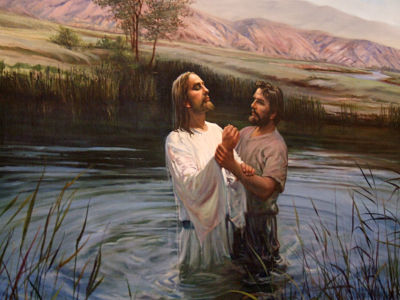 Theme Text– "You don't know what you are asking," Jesus said. "Can you drink the cup I drink or be baptized with the baptism I am baptized with?" (Mark 10:38)
1) Biblical baptism is for anyone who understands the good news of Christ's ransom and his Kingdom, has repented from futile self-justification efforts and turned to God for justification by faith in His Christ, and wants to dedicate his/her life to prove that faith. But what has been the popular understanding of baptism (Greek: immersion) in mainstream churches?
Since the 2nd century, water baptism has been used as a ritual to cleanse past sins and establish a relationship with God.
Even infants are baptized by sprinkling water… to dodge hell!
John's Baptism
2) What exactly was the baptism provided by the man who started it in the first place?
The Old Testament's Jewish rituals consisted of washing and sprinkling of unclean persons, but there was no baptism until 'John the Baptist appeared in the wilderness, preaching a baptism of repentance for the forgiveness of sins' - Mark 1:4. Paul says, 'John's baptism was a baptism of repentance. He told the people to believe in the one coming after him, that is, in Jesus' - Acts 19:3-4.
John's water baptism was meant to prepare the Jews for the Messiah who required their repentance. The repentance (change of mind) expected of them was to give up their faith in sacrificial rituals for the forgiveness of their sins and to place their faith in the sacrifice of the Messiah.
The water itself didn't cleanse, but symbolized one's repentance to turn to the Messiah for salvation.
Christ's Baptism – The Baptism of the Church
3) Jesus himself asked to be baptized. He 'knew no sin'. So why did he ask for a baptism?
John asked the same question. Jesus replied, 'It is proper for us to do this to fulfill all righteousness.' Matt 3:15. To fulfil his Father's will, Jesus relinquished his earthly interests, ambitions and desires.
This act of baptism was symbolic since he declares at the time of the Last Supper, "I have a baptism to be baptized with, and how am I pressed till it may be completed!' - Luke 12:50 YLT. Clearly his baptism was a baptism into death. His baptism was fulfilled when he died saying, 'It is finished!'
To Die and Be Born Again
4) If Christ's baptism was a baptism into death, what about that of his church? Why does Peter ask us (Acts 2:38) to be baptized in Christ? What does it mean to be immersed into Jesus Christ?
Paul reminds the Romans, 'Don't you know that all of us who were baptized into Christ Jesus were baptized into his death? We were therefore buried with him through baptism into death in order that, just as Christ was raised from the dead through the glory of the Father, we too may live a new life. For if we have been united with him in a death like his, we will certainly also be united with him in a resurrection like his' - Romans 6:3-5.
Yes, baptism includes our death! 'For you died, and your life is now hidden with Christ in God' - Col 3:3. We die to all our earthly fleshly life, as Jesus did.
We die to Adam i.e. give up our earthly goals and ambitions, even lawful desires, and rise to Christ (be born again!) dedicating our life to perform deeds of faith, to suffer for the sake of his gospel.
Yes, Christ's baptism is to die and be born again. And it's a necessity!
          Jesus replied, "Very truly I tell you, no one can see the kingdom of God unless they are born again. John 3:3.

5) Why should we be willing to give up all claims to our earthly lives?
When James and John asked to be seated by his side in the Kingdom thrones, Jesus asked them –
          "Can you drink the cup I drink or be baptized with the baptism I am baptized with?"
"We can," they answered. Jesus said to them, "You will drink the cup I drink and be baptized with the baptism I am baptized with" Mark 10:38-39. Yes, if we want to sit in thrones with Christ in his Kingdom, then we need to offer our present lives like Christ for the sake of his gospel. Paul tells us -
'If we endure, we will also reign with him' 2Tim 2:12. 'If we are children, then we are heirs—heirs of God and co-heirs with Christ, if indeed we share in his sufferings in order that we may also share in his glory' Romans 8:17.
Jesus's ransom for Adam is to bring all of Adam back to life (Rom 5:12,18, 1Tim 2:6, 1Jn 2:2, 1Cor 15:22). At his return, all the dead will rise, his faithful Church getting heavenly eternal life and unbelievers waking up to a krisis [mistranslated as damnation, but actually means trial] on earth (Jn 5:28-29). With Satan bound, mankind would get a fair shot at learning righteousness (Acts 3:21, Isa 26:9, Mic 4:1-3) under the reign of Jesus and his glorified Church (Rev 20:3-4). Those are the thrones James and John wanted. So do we.
6) Has the church's baptism been foreshadowed in the Old Testament times?
Paul explains to the Corinthians: 'Our ancestors were all under the cloud and they all passed through the sea. They were all baptized into Moses in the cloud and in the sea. They all ate the same spiritual food and drank the same spiritual drink; for they drank from the spiritual rock that accompanied them, and that rock was Christ' 1Cor 10:1-4. Yes, Israel (depicting the Church) forsook Egypt (symbolizing the world) to follow Moses. When they came to the great trial at the Red Sea, God saved them through Moses, they were all typically baptized into Moses (representing Christ) in the sea and in the cloud.
7) 'If there's no resurrection, what will those do who're baptized for the dead?' 1Cor 15:29. What does this mean?
During the medieval ages, this verse was misunderstood, and some groups started baptizing the dead. But here Paul is rather talking about the resurrection of the dead. He explains that all those who are baptized, are baptized for the sake of the unbelievers (considered rather dead now – Luke 9:60) who will resurrect to hear the good news of eternal life from the ruling Church in the Kingdom.
8) Is the symbolic baptism (immersion) necessary? And can infants partake of this?
The Bible records the disciples baptizing believers – When they believed Philip as he proclaimed the good news of the kingdom of God, they (Samarians) were baptized. Acts 8:12. Philip and the eunuch went down into the water and Philip baptized him. Acts 8:35-38. 'Surely no one can stand in the way of their being baptized with water.' So he ordered they be baptized in the name of Jesus Christ. Acts 10:44-48. We also read of the baptism of the Corinthians (Acts 18:8), of Lydia in Thyatira (Acts 16:14-15), of the Philippian prison jailer (Acts 16:33), and of the household of Stephanus (1Cor 1:16).
So yes, we can see that baptism (immersion) was a very necessary act according to the Apostles.
And in all these cases, we see mature adults getting baptized after gaining knowledge of Christ and his Kingdom. Nowhere do we see infants baptized. Biblical baptism is only for adults!
 9) If you have been sprinkled /immersed before you came into the knowledge of the original good news of the Bible, is there a need to get baptized (immersed) again?
Although it's a symbol, it's an important one. On hearing the true gospel of Christ's Kingdom, a person dedicates his/her life to Christ and displays that commitment by this act of immersion, not only to God, but also to fellow believers. And they welcome him/her to the race.
The sprinklings/immersions carried out by churches of Christendom must have been mostly done without the knowledge of the foundational biblical glorious gospel of Christ's Kingdom and the Church's Truly Higher Calling. So they don't hold up to the biblical standard.
Even those who had taken John's baptism were told to re-take baptism in the name of Christ! Paul asked, "Then what baptism did you receive?" "John's baptism," they replied. Paul said, "John's baptism was a baptism of repentance. He told the people to believe in the one coming after him, that is, in Jesus." On hearing this, they were baptized in the name of the Lord Jesus. - Acts 19:3-5. Yes, the baptism they had taken wasn't of dying to the flesh and rising in Christ. So Paul told them to take it again properly.
Most importantly, when a person takes this true baptism, God adopts him/her into His Family as His child, and anoints him/her with his Holy Spirit (Acts 2:38)! This is also what happened when Jesus was baptized - heaven was opened and the Holy Spirit descended on him in bodily form like a dove. And a voice came from heaven: "You are my Son, whom I love; with you I am well pleased." Luke 3:21-22.